Let your lawn breathe! Get started with Aeration and Overseeding
Unlock the potential of your lawn with a personalized quote from our knowledgeable and dedicated lawn care experts.
The Grass is Always greener with us
Core Aeration and Overseeding
Core aeration is a mechanical form of cultivation which loosens the soil by removing cores, leaving holes in the soil. It improves lawn health by allowing water, air and nutrients to more more freely into the root zone of the grass plants. Double aerating your lawn will increase the amount of cores removed, thus increasing the effectiveness of the treatment. 
When Should You Aerate Your Lawn?
When your grass starts growing unevenly, thinning out, or changing color, such as turning yellow, it very likely means it needs aeration. Aeration should be done in the fall so your lawn can recover before it needs to prepare for winter. 
Aeration and Overseeding Helps With
Improves overall lawn health

Helps lawn recover from a tough summer

Strengthens grass roots

Allows for better water absorption

Reduces water pooling

Aides in thickening your lawn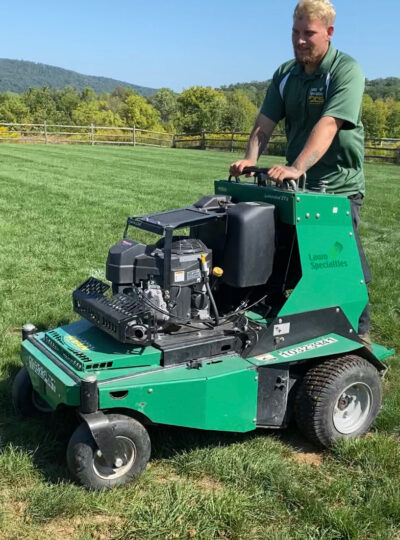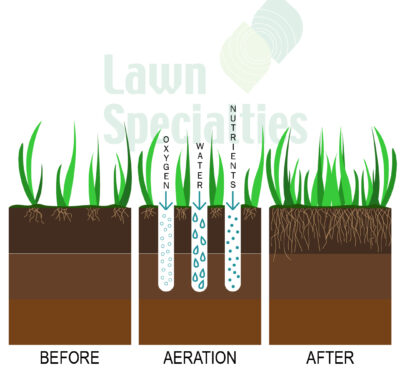 Expert Tip From Steve
Aerating is easiest on your lawn when your soil is moist from irrigation or rainfall the day before.
Why Choose Us?
Lawn Specialties is one of the largest family-owned and operated lawn and tree care companies in Pennsylvania. With 35+ years of experience in the industry, Lawn Specialties knows how to provide and service beautiful landscapes for its residential and commercial customers in all of Eastern Pennsylvania & Northern New Jersey. Lawn Specialties has earned a reputation for providing personalized customer service and using the latest environmentally-friendly fertilizers.
Fast Service
We act quick to bring your lawn to its full potential!
Free Quote
Please contact Lawn Specialties to receive a free, no obligation quote!
Customer Service
We have earned a reputation for providing personalized customer service.
Knowledgeable Team
With 35+ years of experience in the industry.